ニュース & トピックス
Introduction - Osaka warmly welcomes vegetarians!

If you are visiting Osaka as a vegetarian, you don't have to worry, because Osaka has a lot of options for vegetarians and especially for Indians. When I was in Osaka I never ever for once worried about the food options. I hope you'll enjoy your stay in Osaka without worrying about your diet.

I was so shocked when I first ate Indian food in Japan. I was flabbergasted when I saw the kind of Naan they serve. In Japan, they serve very big naan. When I first ate it, I couldn't eat 1 whole naan, but as time passed, I was able to eat the whole naan with Lassi, funny isn't it?

As you know just like in any other country, Indian cuisine is also famous here. To my surprise, some of my friends and teachers go to Indian restaurants religiously. Normally, I was expected to introduce an Indian restaurant to my Japanese friends, but the situation was vice versa.

When I went to an Indian restaurant for the first time, I was not sure whether to try flavored naan, because Honey flavored naan or Chocolate flavored naan is not very common in India, but after trying it out I liked the taste.

 

Tip:

You can choose your spice level accordingly. If you want to eat spicy as we eat in India, you can request them to make it accordingly.
In an Indian restaurant, set meal is very famous. Most Indian restaurant in Japan have A set, B set, and C set. Each set has its specialty, so I suggest you that, before ordering check the sets they offer because sometimes they are more affordable.
In most of the restaurants they speak Hindi or English, but sometimes Japanese people take orders, so you may need to talk some Japanese.

These are some common words you will need if you visit Indian restaurants in Japan:

| | | | |
| --- | --- | --- | --- |
| Name | Devanagari | Japanese | Pronunciation |
| Naan | नान | ナン | nan |
| Curry | कारे | カレー | kare |
| Lassi | राश्शी | ラッシー | rasshi |

In this article, I will introduce my favorite Indian restaurants in Osaka. Of course, there are many other Indian restaurants that I couldn't go to but hope to go to in the future.  If you have any other recommendations, please feel free to comment.
Great Vegetarian Foods to Eat in Osaka

1)Ganga Mahal:

 

Location: 1 Chome-8-10 Ishibashi, Ikeda, Osaka 563-0032

 

What should I tell you about this restaurant? This was my favorite restaurant in Osaka. This is the restaurant I used to visit frequently. This restaurant was so close to one of my university's campuses. It's actually the most famous Indian restaurant among the  students from my university. One of my Japanese friends introduced this restarant and it became my favorite place. The 豆カレー(Mame Kare), naan and lassi is the best combination one can try.  Staff present here is very polite. The feature is one of the staff members was Maharashtrian, so I was able to talk in Marathi.

 

2)Singh's Kitchen:

 

Location: 1 Chome-21-20 Chuo Ward, Nipponbashi,Osaka 542-0073

 

Link: http://singh-kitchen.com/

 

This is the best place to visit if you are craving to eat 'Chole'. The taste of food which we get here is very similar to what we eat in India. It is little bit spicy as compared to other Indian restaurants. This restaurant is very famous among the Japanese people. The prices are very reasonable. They also serve some south Indian dishes. Whenever I was near this restaurant, I chose to eat here.

 

 

3) Chatpata

 

Location: 6 Chome-3-31 Uehonamachi, Tennoji Ward, Osaka, 543-0001

 

Link: https://www.instagram.com/chatpata_hihitown/?hl=ja

 

If you are craving for South Indian cuisine, this place is for you. The interior is aesthetically pleasing. They have variety of food. They also offer Thali (Set meal). Honestly, when I ate south Indian cuisine here for the first time in a long time, I got little bit emotional. I went here with my friend, but while we were eating, we talked very less, as we were so engrossed in eating food. The staff was so polite. I mean the whole ambience was filled with Indian vibes.

 

4)Bindu:

 

Location: 〒530-0017 Osaka, Kita Ward, Kakudacho, 8−47 Kakuda cho 8-47 Hankyu Grand Bldg. 30F Hankyu Grand Building.

 

Link: https://binduumeda.gorp.jp/

 

I think this is Osaka's most famous Indian restaurant. It is located in the heart of Osaka. Their serving style is very unique. You get a chance to see the chef making the naan. The food they serve is super tasty. They have a variety of food to choose from. They serve paneer burji(minced cottage cheese dry curry), and baingan bharata( minced grilled eggplant with spices, tomato, onion, garlic etc.).  You can even eat kulfi here.

I hope after reading this article, you all will have a little idea that, being a Vegetarian in Japan is not that difficult, especially if you are an Indian. People who are traveling or on a business trip in Osaka, search for Indian restaurants. There are many Indian restaurants in Osaka.

Before coming to Japan, it is natural to worry about vegetarian options available in Japan, but if you do a little bit of research, you'll find many options. If you are planning to live for a long period, I would suggest that cooking for yourself is the best and most affordable option.
Conclusion:

Before arriving in Japan, it seemed impossible to live there independently as a vegetarian. However, after I settled in the country, I got used to the lifestyle. I have observed that many people complain rather than just enjoying the journey. Although at first, I was one of them, I stopped complaining and started exploring. There are plenty of options out there to eat even if you are vegetarian or vegan. Don't feel worried because Osaka has so much to offer!

There are plenty of options in Osaka for vegetarians.

                                                                                                                                         Chaitrali Parkhi

Osaka Global Student Ambassador Network – Mentor
記事提供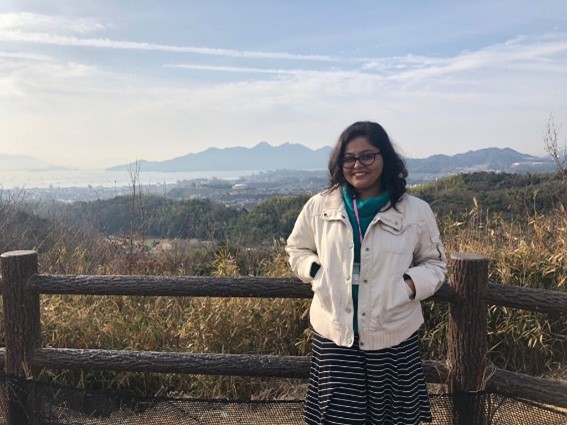 About the Author
Chaitrali Parkhi is from Pune, India and is a member of the Osaka Global Student Ambassador Network (OGSAN), operating as a mentor.  She is a former international student that studied at Osaka University. Her dream is to be a bridge between India and Japan and support the tourism industry so it will be easier for both Japanese and Indian people to travel. Chaitrali is also a passionate vegetarian and wants to explore more vegetarian options in Japan and help vegetarians and vegans to live more comfortably without having to compromise. As a member of OGSAN, Chaitrali is striving to promote Osaka to India and the rest of the world.
Language

日本語
English
简体中文
中國傳統的
한국
Tiếng Việt
नेपाली
bahasa Indonesia
ไทย
မြန်မာ
español