ニュース & トピックス
Introduction - Useful Phrases for Vegetarians

When you travel to Japan, you simply have to visit Osaka! It is Japan's second largest metropolitan area and a place full of fun and enlightenment.  If you are a big foodie like me, then this is the place for you.

 Osaka is known to be "Japan's Kitchen". There are abundant food stalls and restaurants in and around Osaka. It is a home to many famous Japanese dishes like Takoyaki, Okonomiyaki and Kushikatsu. Of course, with some of Japan's most famous foods, including Sushi and Tempura, containing fish, many might worry that Osaka is difficult to live in as a vegetarian. However, if you are ready to explore, you can find a huge array of different vegetarian options which are really delicious and awesome. Don't worry! Let me take you through some of my favorite restaurants where you can eat really tasty vegetarian food!

Before getting started, I want you to know that Japanese people are not that familiar with the idea of being Vegetarian. Therefore, it is important to tell them what you don't want in your food. If you are not well-versed with the Japanese language, the following are some phrases you should keep in mind.

English

Hindi

Translation

 (Romaji and Hindi)

Japanese

I am a vegetarian

मैं शाकाहारी हूं।

Watashi wa bejitarian desu

私はベジタリアンです。

वाताशी वा बेजितारीआन देसु।

Does it contain meat or fish

क्या इसमें मांस या मछली है?

Kono tabemono niwa naku ya sakana wa haitte imasuka.

この食べ物には肉や魚は入っていますか。

कोनो ताबेमोनो नीवा नीकु या साकाना वा हाइत्ते इमासका?

Please don't add meat or fish

कृपया मांस या मछली न डालें।

Niku to sakana wo nuite kudasai

肉と魚を抜いてください。

नीकु तो साकाना नुईते कुदासाई।

I don't eat ___

मैं _­­नहीं खाता।

___wo taberaremasen

__を食べられません。

_­__वो ताबेरारेमासेन।

Things you should particularly tell the chef to not add to your food :

| | | | |
| --- | --- | --- | --- |
| English | Romaji | Hindi | Japanese |
| Meat | Niku | नीकु | 肉 |
| Fish | Sakana | साकाना | 魚 |
| Eggs | Tamago | तामागो | 卵 |
| Dashi | Dashi | दाशी | 出汁 |
| Bonito Flakes | Katsuobushi | कात्सुओबुशी | 鰹節 |
Great Vegetarian Foods to Eat in Osaka

1) Okonomiyaki

Okonomiyakimatsuchan: (Near Kita-Tatsumi station):

This is my favorite place to eat Okonomiyaki. This place feels like Japan. You can eat while sitting on the floor. It is a very friendly place, and I have been to this place more than  5 times during my one-year stay in Osaka. If you ask the staff, they are more than happy to make you Okonomiyaki without any meat or fish.

 Link: https://tabelog.com/osaka/A2701/A270306/27034450/  

Potato Okonomiyaki

Tsuruhashi Fugetsu: (There are many branches in Osaka)

This is one of the most famous chains for Okonomiyaki. You can customize your okonomiyaki by telling them what you want and what you don't want. If you are eggetarian then 'Modern Yaki' is a dish for you. This okonomiyaki has nothing but cabbage, egg and cheese. Don't worry, you can ask them to not add egg if you don't want it . So, you can enjoy eating here without any worry.

Link: https://fugetsu.jp/

Modern Yaki 

2) Kushikatsu

Kushiyamonogatari: (There are many branches in Osaka)

You can eat Kushikatsu at any place, as you can choose your ingredients for frying. Kushikatsu is deep-fried skewered meat and vegetables.  I enjoyed eating these tasty fried vegetables. I always heard about kushikatsu when I was in India and knew that it was a famous dish that originated in Osaka. They even had cute little Taiyaki, which are sweet cakes in the shape of fish.

Link: https://www.kushi-ya.com.tw/

Kushikatsu

3)Takoyaki

Janbosouhonten Takoyaki: (Near Ishibashihandaimae station)

Surprisingly, I was lucky enough to have veg Takoyaki because Tako itself means octopus. You can eat Takoyaki without Tako in it. I know it sounds absurd but trust me. I tried veg Takoyaki for the first time here. The restaurant's name is Janbosouhonten. The staff members were really friendly and kind. However, you need to mention that you don't want octopus!

Link: https://tabelog.com/osaka/A2706/A270603/27075586/

Takoyaki without Tako

4) Ramen

Chabutan: (located in Yodobashi Camera building in Umeda)

Ramen, an internationally recognized food, of Chinese origin, is eaten on a regular basis in Japan. They have vegetarian ramen just for people like us. It was so tasty.

Link: https://www.happycow.net/reviews/chabuton-osaka-44525

Vegetarian Ramen

5) Other

Shizen Bar Paprika: (located near Shinsaibashi station)

It is a vegan restaurant. It is the first ever vegan restaurant I visited in Osaka. They have plenty of options including burgers and even Japanese dishes like Teriyaki, Karaage

and Donburi. This place is aesthetically pleasing and is quite famous in Osaka. I was shocked though, because I thought that Japanese people weren't interested in vegan food, but most of the customers were Japanese. The staff were very friendly. They have both indoor and outdoor seating.

Link:  https://www.happycow.net/reviews/paprika-shokudo-vegan-osaka-45738

Stir-fried vegetables and tempe teriyaki set meal

Soup Stock Tokyo: (Opposite to H&M Umeda store)

If you are in Umeda, the restaurant which I used to visit is Soup Stock Tokyo. They have lots of options of vegetarian or vegan soups. I tried their vegetarian curry. It was very tasty, and I had it with oolong tea. Though I found this restaurant by accident, the food quality was really good, and the portion size was fulfilling.

Link: https://www.soup-stock-tokyo.com/en

Vegetarian Curry

Pizzeria Porchetta: (Links Umeda)

To my surprise, the pizzas I had here were the tastiest. Whenever I wished to have a pizza, I used to visit Pizzeria Porchetta. If you are in Umeda and want to try pizza, then I suggest you check this place out. They have a variety of vegetarian pizzas. Their salads and desserts are also tasty. Their panna cotta is always in demand and sold out.

Link: https://www.giraud.co.jp/pizzeria-porchetta/index.html

Vegetarian Pizza

6) Burger:

This is a uniquely Japanese burger chain. This burger chain offers a variety of vegan burgers. They have many burger options which contain soya patties. If you are hungry and you are not able to find anything, then Mos Burger is definitely the place for you.

Link: Mos Burger

They have a Soya Vegetable hamburger. There was a branch of Lotteria where I used to live. Honestly, I was totally dependent on this chain for the first 2 to 3 months because I knew nothing about other vegetarian options. If you are not sure about what to eat, then visit the nearest Lotteria branch to you.

Link: https://www.lotteria.jp/global/en/

There are some franchises in Osaka like the ones we have back home in India such as Subway. Although these are good because you can customize your own food by adding your favorite toppings, I usually kept these types of restaurants as my last option, because I wanted to explore Japan and try new things which are not readily available in India yet.
Conclusion:

Before arriving in Japan, it seemed impossible to live there independently as a vegetarian. However, after I settled in the country, I got used to the lifestyle. I have observed that many people complain rather than just enjoying the journey. Although at first, I was one of them, I stopped complaining and started exploring. There are plenty of options out there to eat even if you are vegetarian or vegan. Don't feel worried because Osaka has so much to offer!

There are plenty of options in Osaka for vegetarians.

                                                                                                                                         Chaitrali Parkhi

Osaka Global Student Ambassador Network – Mentor
記事提供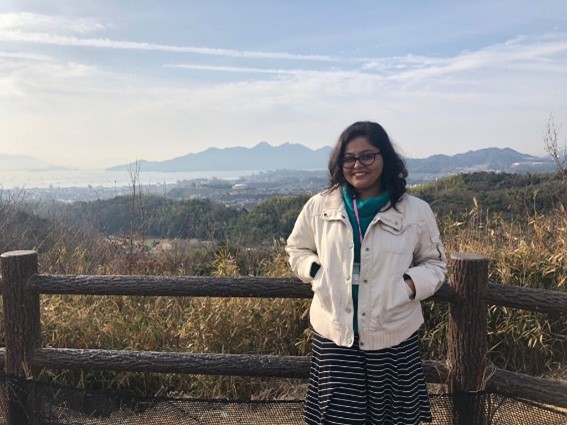 About the Author
Chaitrali Parkhi is from Pune, India and is a member of the Osaka Global Student Ambassador Network (OGSAN), operating as a mentor.  She is a former international student that studied at Osaka University. Her dream is to be a bridge between India and Japan and support the tourism industry so it will be easier for both Japanese and Indian people to travel. Chaitrali is also a passionate vegetarian and wants to explore more vegetarian options in Japan and help vegetarians and vegans to live more comfortably without having to compromise. As a member of OGSAN, Chaitrali is striving to promote Osaka to India and the rest of the world.
Language

日本語
English
简体中文
中國傳統的
한국
Tiếng Việt
नेपाली
bahasa Indonesia
ไทย
မြန်မာ
français